Mrs.Durga Ghimire is a senior social worker and a renowned human rights activist of Nepal. She has been actively involved in the field of Social work since 1975. She was very active in the political movement for the restoration of Democracy in Nepal in her student life in 1970s. She was imprisoned for three times and spends 13 months in the prison for her political activities. She has also written the book about her experience in the prison. Based on her prison experience she wrote an award winning book in 1994 "Staying Alive: Memories of Women Prison."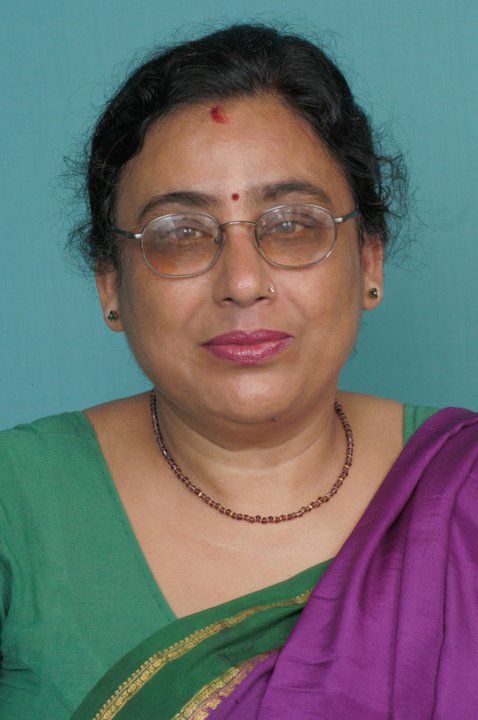 Durga worked as a Research Officer from 1972 to 1976 in Tribhuvan University. From 1977 to 1981 she was the Member Secretary of the 'Community Services Co-ordination Committee" that co-ordinated all the social service activities in Nepal. Durga was also Chairperson of the 'Women Services Coordination Committee' in 1889. In 1982 she was awarded the prestigious 'Gorkha Dakshin Bahu' medal for her outstanding contribution in social work. In 1882 she established 'Centre for Women Development', aimed to conduct research on various aspects of women and development.
Involvement since 1980s
1. Founder member and at present chair the Association of craft producer (from 1984 to till now)
Nepali Craft Trading exports items made by the Association for Craft Producers (ACP). ACP is a non-profit group that provides design, marketing, training and technical services to low-income artisans of all ethnic backgrounds – 90% of whom are women. Through donor support, ACP started in 1984 with 38 artisans and five staff. Today, the organization has grown to be a fully self-sustaining enterprise with 60 staff and over 1,200 artisans from 30 producer groups across 15 urban and rural districts of Nepal. They have two retail outlets called Dhukuti – one in Kathmandu and the other in Pokhara. ACP is a member of the World Fair Trade Organization (WFTO), Asia Fair Trade Forum (AFTF), Fair Trade Group Nepal (FTGN), and the Federation of Handicraft Associations of Nepal (FHAN). ACP artisans not only receive fair wages, but they also have access to many other benefits including counselling and medical services, paid maternity and paternity leave, and clothing and household allowances. They have also initiated a savings program and a retirement fund, low-interest loans, education allowances for the artisans' daughters, and seminars on health, nutrition and women's rights. ACP also takes an active role in protecting the Nepal's fragile environment by recycling materials, using water-based dyes for printing, using only softwood in production, harvesting rain water, and treating their production waste water.
2. Women Security Pressure Group (from 1992 to till now)
She is the founder member, Vice Chairperson and the Advisor (at present) of 'Women Security Pressure Group' which is the Network of 50 organisations working for the rights of women. It has raised many issues related to women such as discriminatory laws related to women, advocacy to have 33 percent women in the various levels of power structure. It has also handled the cases related to violence against women. She has been always in the forefront of lobby and advocacy for the rights of women as well as to provide justice to women.
3. Centre for Asia-Pacific Women in Politics (CAPWIP), Manila (from 1994 to till now)
Durga is involved with the centre for Asia-Pacific women and politics since 1994 and at present she is the vice chair of this organisation. She is also the regional coordinator for its regional focal points and organised various programme in the region and also in Nepal. The Centre for Asia-Pacific Women in Politics (CAPWIP) is a non-partisan, non-profit and non-governmental regional organization (NGO) dedicated to promoting equal participation of women in politics and decision-making. CAPWIP operates through a network of national affiliates clustered into 5 sub-regional groupings: Central Asia, East Asia, Pacific, Southeast Asia, and South Asia. The Centre's sub-regional focal points and national affiliates are autonomous organizations actively involved in women's political empowerment in their respective countries. CAPWIP has committed itself to supporting its network through technical assistance in organizational and program planning, training, research and information sharing. The Centre develops modules and training programs for women's leadership and responsible citizenship based on the framework of transformative politics. The Centre conducts trainers' training for women's political empowerment and transformative politics
4. National Network against Trafficking
Durga founded National network against trafficking in women and children in 1990. There was no any organization except ABC Nepal initiated rescue and rehabilitation on trafficking sector and also had organised the national convention related to trafficking. One of the recommendations of the convention is to form the network group to put pressure to the government to give more priority to the issue of trafficking. This network was working as a loose network for many years and in 1997 it has been registered with government. NNAGT is a coalition of grassroots level Community Based Organizations (CBOs) and national level Non Governmental Organizations (NGOs) working to combat girl trafficking and violence against women. Its main focus is networking, alliance and information dissemination. Moreover NNAGT and the member organizations act as an advocate to protect women's right and are involved in various activities to 'Empower Women'. NNAGT has been actively involved in these issues both in the regional and international arenas. It has more than hundred organisations in its network. At present Durga is actively involved as advisor of this group.
5. Tama Koshi Sewa Samitte (from 1984 to till now)
She is the Co-founder of Tamakoshi Service Society (TSS), a community-based organization improving the lives of marginalized people in Ramechhap, Nepal. TSS was registered in Ramechhap District Administration Office in 1984. It is the first NGO in the district and 68th in Nepal to be affiliated with Social Welfare Council (SWC). TSS is working only in Ramechhap, which is one of the backward among 75 districts of Nepal. On the basis of district level overall development indicators, Ramechhap has been ranked in 51 position among 75 district, as the least developed district. In the midst of civil war in Nepal, where widespread intimidation, coercion and human rights abuses are prevalent, Ghimire and her husband Jagdish grew this voluntary grassroots organization to over 6,000 members in 40 villages, providing basic services in preventative and reproductive health care, sustainable agriculture, water supply and income generation through rural micro-enterprise. With no government aid, and with the help of only a few external agencies including World Neighbors, TSS is the only agency providing these essential services in the Maoist guerilla controlled areas of Ramechhap.
In 1986, TSS established a small clinic in Manthali village. In the clinic, there was one assistant who was trained for three months that time. Few medicines (especially for fever and wound dressing) were available. During that time, no any health institution was existed in Manthali, even of the government. There was only one health post in the district headquarters, Ramechhap village, which is 15 kms. far from Manthali and there was no access of transportation to Ramechhap village. Despite a small clinic, it was very significant when there was no any health institution in Manthali. Gradually, TSS expanded the level of health services in the clinic and equipped more health workers. In 2000, the clinic became a 10-bed hospital and now a 15-bed hospital. This 15-bed hospital was established as Tamakoshi Co-operative Hospital.
Reflection of hope award to Durga for her outstanding Social work in the remote district of Ramechap
OKLAHOMA CITY (April 19, 2006) – Members of the Oklahoma House of Representatives today honored Durga Ghimire, co-founder of Tamakoshi Service Society (TSS), for her efforts to improve the lives of poor people in Ramechhap, Nepal.
Ghimire Durga, who has been named the recipient of the 2006 "Reflections of Hope Award" by the Oklahoma City National Memorial & Museum, was honored with a special citation during today's House session.
"Thanks to Durga Ghimire, the people in Ramechhap have access to health care and a chance to rebuild their economy," said state Rep. Susan Winchester (R-Chickasha), who authored the citation honoring Ghimire. "The Tamakoshi Service Society has been a beacon of hope in a sea of strife."
The House citation honoring Ghimire notes that "amid conflict, violence and oppression, the courageous work of Durga Ghimire and the Tamakoshi Service Society offers empowerment to the people of Nepal, exemplifying hope in the midst of tragedy" and that Ghimire's work also "inspires hope in the midst of political violence."
The "Reflections of Hope Award," established in 2005 as part of the 10th anniversary commemoration of the Oklahoma City Bombing, honors a living person or group whose extraordinary work has significantly impacted a community, state or nation. It exemplifies that hope not only survives but thrives in the wake of political violence.
As same as this award was given to USA ex- president: Bill Clinton in 2010. Furthermore, Mrs. Durga mobilized this award, amounts to USD 25,000 as a fund for health and education of children, adolescent girls and women.
Major Achievements
• Durga is the first women who raised the issue of human trafficking in Nepal in 1987. Though this issue was one of the critical issues but no attention was given by the government and other agencies.
• In 1990, she organized the first seminar on this issue of human trafficking which was inaugurated by senior politician and Mr Krishna Prasad Bhattarai, the first Prime Minister after the restoration of democracy in 1990 with an objective to sensitize public, press, government and other stakeholder. One of the victims of the trafficking who was rescued from Bombay was also the guest of honour of the seminar.
• She formed the first National Net work against trafficking of different NGOs to put pressure to the government for the prevention of trafficking.
• She rescued 124 minor girls from Bombay in 1999 in the coordination with different seven Nepali NGOs and Indian organisation and safely repatriated from Bombay.
• She also rescued 44 minor girls from Apollo circus Delhi India with the help of Nepali organisation based in Delhi (Pravasi Nepali Mitra Munch).
• There were many discriminating laws related to women, she along with various organisations did lobby and successful to change the law such as inheritance property rights to daughter, rape law, law related to marriage, divorce, and polygamy and abuse law.
• She formed more than 250 self help groups (SHGs) for the Socio-economic empowerment of women. At present about 200 groups as Women Saving and Credit Groups are operating in different parts of the country which has raised their self confidence and also raised their social status in the family and the societies. Furthermore, many members of the SHGs have solved various cases of violence related to adolescent girls and women in local level.
• ABC/Nepal provided support to about 1700 victim of various form of violence. The major supports we have provided are rescue and rehabilitation. Legal and counselling services, Education of the victims and various gainful employments of the victims. The attitude of the victim has been changed and they are living normal life and their status in the family and societies has been raised.
• She has been successful to lobby the government to formulate national plan and policy related to trafficking. There was no national laws and policy related to trafficking due to her continuous lobby and advocacy, government has formulated national laws and policy related to trafficking (commitment to prepare national plan of action relate to trafficking. at present, government has formulated national task force under the ministry of women and social welfare involving various sectoral ministries and NGOs. In district level, government has formed district task force under the coordination of Chief district officer involving other stakeholders. Mrs. Ghimire was also the member of central level task force group related to trafficking, representing from NGOs.
• She along with other organisation did lot lobby and advocacy and successful to have 33 percent women in the parliament.
• She not only did lobby and advocacy on trafficking in Nepal but also visited many parts of the world (29 countries) and presented paper on the issue of trafficking and drew the attention of every one to prevent this inhuman crime.
• She is the member of various high-level committees headed by Prime minister and ministers on HIV/AIDS and trafficking (for last five years).
• She has been writing on the issue of women since 1974 and written many articles on women and development. She is regular writing in Kantipur and Gorkhapatra, both are the widely circulated national daily news paper of the Nepal.
National and International awards
For her outstanding work in the field of social work and human rights activities
• She received Gorkha Dakshin Bahu Medal, Grade four, for her outstanding contribution in the field of social work, in 1982
• She received Best Social Worker Award for outstanding contribution in the field of women and children, from social welfare council, by the prime minister of Nepal, in 1999
• She received International award Resourceful Women Award, from Shaler Adam Foundation and other seven organizations based in USA, in 1994
• She has received prestigious award Uttam Shanti Puraskar, a literacy award for the book "Staying alive: Memories of Women Prison" from Uttam Shanti Puraskar Guthi, Kathmandu, 1994
• She received Rotary Vocational Award from Rotary International Kolkatta, district 3290 for outstanding contributions towards the protection of the rights of women and children, in 2003.
• She received Reflection of Hope Award from Oklahoma National Foundation, Oklahoma City, USA in 2006
• She received Bijaya Shree Social Worker Award from Bijaya Resource Development Center, Nawalparasi, in 2008
• She received Social Worker Award from Bhadra Ghalay Sewa Sadan, Kathmandu, in 2012
• She has been awarded with Daya Ram Memorial Award from National Human Rights Commission for her outstanding contribution in the field of Human rights on June, 2012
• She received the Help For Self Helf Award from Stromme Foundation, Norway, in November 2012
• She has been felicitation from many organization and groups for her continuous work in the field of human rights and social works.